April 1, 2021
How Cloud Accounting Helps Small Businesses Gain Competitive Edge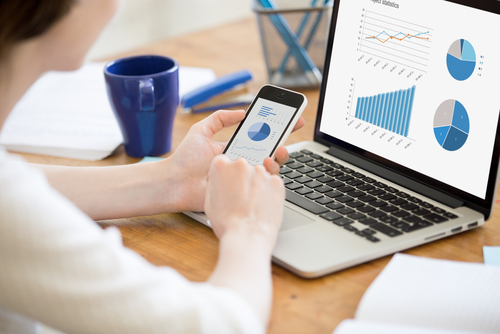 In a continuously changing business environment, small businesses have a challenge to keep up. It's especially expensive to keep pace with ever changing technology. Luckily, with affordable cloud accounting solutions, small businesses can maintain a competitive edge.
What is Cloud Accounting
Cloud accounting involves moving your business books online. Unlike desktop accounting systems, cloud accounting permits you to access accounting software from a web browser without the need to install it on your personal computer.
Companies that offer cloud computing provide their services on remote servers and applications. For a fee, you gain remote access to the services that fit your business needs.
Cloud Accounting Benefits for a Small Business
Here are benefits offered by cloud accounting that enable small businesses to gain a competitive edge:
No need to invest in expensive software and hardware
With cloud accounting, you need only subscribe to a company offering cloud accounting services. This removes the need to purchase the actual software and necessary hardware. It also means there are no extra costs for maintenance, allowing a business to focus on core business activities.
Save on upgrade costs
Software keeps changing and needs frequent patches and upgrades. This is expensive for a small business running a traditional accounting software, and most end up using outdated software.

Subscribing to cloud accounting means the service provider takes care of the upgrades, and you have access to new features instantly.

No need to hire an in-house accountant or bookkeeper
If your business is small and running on a tight budget, subscribing to a cloud accounting solution will save you the cost of hiring a person for manual accounting and other bookkeeping processes. By connecting the system with your bank account, the transactions will be updated automatically, thereby saving you time and ensuring accuracy.
Easy to scale
With cloud-based services, you can easily scale your business as it grows by adding to the services you subscribe to. At the same time, if your business is experiencing a slowdown and you need to reduce expenses, you can scale down by reducing the number of subscribed services.
Data accessibility
You can easily access your financial status at any time, unlike when you run a traditional desktop accounting system. This is possible from any device that has an internet connection.
Access to various functions, features and support
Cloud accounting enables a small business to have access to different accounting features and functions, such as project estimates, finance, billing, invoicing, tax summary, and stocks, among others. This is because of the ability to select services depending on the needs of your business and your budget.
Enables remote working and collaboration
Cloud accounting allows for remote working, which is especially important with the ongoing COVID-19 pandemic and recommendations to work from home. This enhances collaboration with your team and financial advisor because you can all work on the same system at the same time, regardless of your location. The accountant also needs not go through the trouble of importing client data.
Financial reports
Cloud accounting allows for access to regular reports that include insights about the financial state of your business. This enables a business owner to have an up-to-date picture of how the business is performing anytime, whether at home, at work or on the go.
Data security
Data on the cloud is more secure than data stored on a hard drive, which can be accessed if it is stolen. In the case of a natural disaster, your business productivity is not greatly affected because you can still access your data. This is because it's the responsibility of the cloud provider to ensure data security, make regular backups, scan servers for vulnerabilities and use the latest technology.
Final Words
Cloud accounting enables small businesses to enjoy business efficiency and increased productivity while reducing costs. Businesses of all sizes, even small ones, have to keep up with changing technology. Any business that wants to maintain a competitive edge has the option to do away with traditional accounting desktop software.